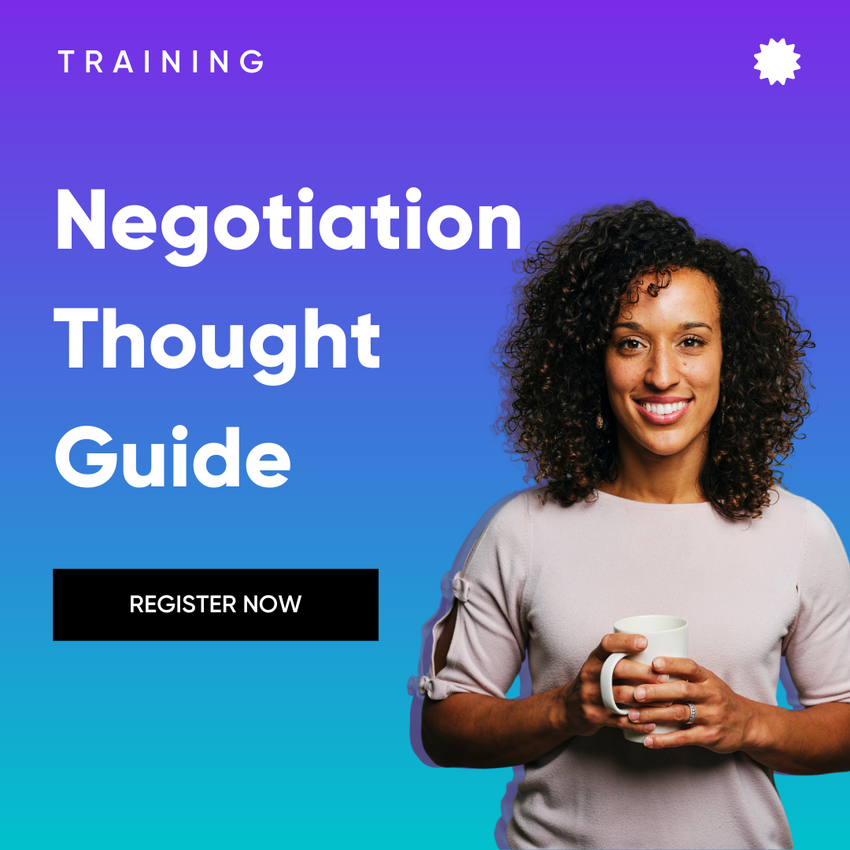 Negotiation Thought Guide
£40.83
The word "negotiation" can make you a little (or maybe very) nervous because it reminds us of unspoken power dynamics, unknown boundaries and hidden intentions. 
Don't let it.
When negotiating, we think it's critical to 
Know what you want. 

Understand where the other person is coming from.  

And tap into your superpower of understanding emotions and needs to quiet those nerves and master the art of negotiating. 
In this 5-part mini-course designed with those of use who are quieter and more empathetic than most in mind, you will: 
Learn the 3 vital parts of successful negotiation, and how to use them to your advantage, in any situation,

Discover why emotions are your new superpower (HINT: The more in-tune with them you are, the better!)

Explore the concept of "Needs" and how they play into the other party's positioning, as well as yours!

Discover a process for understanding and negotiating with anyone, no matter who they are!

Find out the 3 pivotal mistakes that you're most likely making, and learn how to correct them immediately. 
Register now to become a better negotiator! 
Details

Access link will be sent to you upon registering.

Date and Times for the 90 Day Coaching:

- Sat, 26th Mar 11PM GMT (45 mins)

- Sat, 25th Jun 11PM GMT (45 mins)

- Sat, 24th Sept 11PM GMT (45 mins)

If you're unable to make the events, a recording will be available so you can watch at your leisure.

There is no returns refund on workshops.
Shipping & Customs

We ship to the UK, Europe and globally from our UK store.

Kindly note that there will be slight delays in processing and delivering your orders as they will be shipped from the US.

Shipping costs and methods: 

We offer free shipping over £120

UK Standard Shipping £11

EU and International shipping fees are weight based starting at approx. £18.50.

Approximate shipping times: 

Standard Shipping UK: 2-4 days
Standard Shipping Europe: 7-10 days 
ROW: 10-14 days

We use the most economical way to ship to you which is guided by third party carriers who determine the shipping prices.

All our products are sent using tracking with a shipping notification sent to you once your order has shipped.

Shipping Delays: Unfortunately due to COVID and limited staffing at warehouses and shipping companies, delivery times can not be guaranteed and your order may be delayed. We apologise if this occurs. We have little control over the delivery time once your order ships. In most cases, orders do arrive but can be delayed. Please keep an eye on your shipping tracking for updates.

Brexit Customs Charges: Due to the new trade agreement all purchases coming out of UK into EU will incur a customs charge which will vary based on the order value. Unfortunately, this will need to be paid by the receiver before you can receive your order.
Returns & Exchanges

We offer a 14-Day No Questions Asked return policy. You can read our full return policy here including terms and conditions.

There are no returns on sale items or our Vagami Collection. Vagami ships in multi-layered protective packaging, therefore once opened we can not accept returns, so please choose carefully.

If you choose to return, you will simply need to email our support via the support tab on our website for a return authorisation and our returns address.

Unfortunately, we do not offer exchanges or refunds on digital products, workshops or coaching.
Frequently Bought Together
Positive Psychology
Wake up each day feeling good with a morning mindset ritual.
Peak Performance
Improve your habits to become focused, productive and effective.
Power of Handwriting
Limit screen time to reduce stress, anxiety and depression with our proven system endorsed by psychologists.